LESS TIME MIXING MEANS
MORE TIME FOR SPRAYING
FULLY AUTOMATED DOSING IN THE MIXING ROOM

BOOST PRODUCTIVITY AND FLEX-UP TIME – LEAVE THE MIXING TO THE MACHINE FOR MORE ACCURATE COLOURS THAN EVER
Productivity is the key to a successful bodyshop. Cromax Pro Basecoat, which is supplied in ready-to-use bottles specifically for fully automated mixing, and ChromaConnect, when combined with the latest generation Daisy Wheel 3.0 fully automated dispensing system, help your team work faster and free up time for more profitable tasks like painting. Working with the latest technologies shortens repair times and increases throughput, while reducing paint waste and ensuring colour accuracy time after time - even with small amounts of paint.
FEATURES


• Fully automated colour mixing
• Ready-to-use paint bottles
• Precise, computer-controlled dosing to the gram
• Connected to ChromaWeb Cloud
• Reproducible colours
• Compact size

BENEFITS


• Efficient colour management processes
• Frees up painter time for doing more profitable tasks
• Faster mixing means higher throughput
• Accurate colours first time - every time
• Exact dosing of small paint quantity
• Ideal for spot repairs
• Reduces waste which is good for the environment and for bodyshop profitability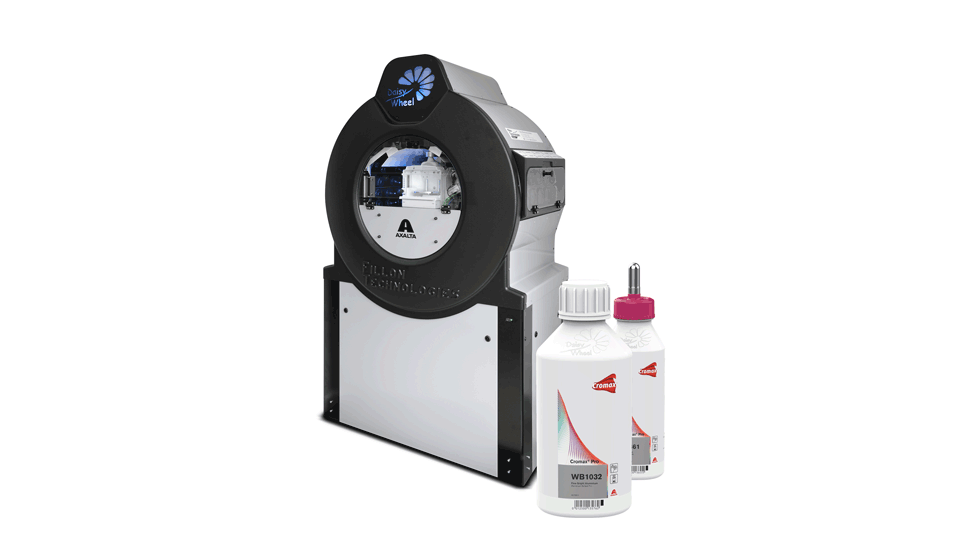 FULL CONTROL OF COLOUR MIXING
SELECT
Measure vehicle's colour/effect with the super-small ChromaVision Pro Mini spectrophotometer. Open the ChromaWeb colour management software using a computer, tablet or phone and choose best matching colour formula.
SEND
Select the colour formula and send it to the Daisy Wheel 3.0 user control screen to initiate the fully automated dosing process.
START
Daisy Wheel 3.0 contains a full set of ready-to-use Cromax Pro Basecoat tint bottles. Put a mixing cup in the machine and select 'Start' on the control screen. A green light indicates that the dosing process is complete.
SPRAY
After removing the filled mixing cup, stir thoroughly and spray as normal. The Daisy Wheel automatically cleans every used dosing valve after usage.
HIGHER PRODUCTIVITY
Bottles are delivered pre-filled with Cromax Pro Basecoat to make turnaround even faster.
Dosing is up to 30% faster compared to the previous generation Daisy Wheel – and substantially faster than manual colour mixing.
Fully automated dosing means right-first-time results and frees-up manpower for more productive tasks.
Adding automated dosing to a fully or partly digital colour management process in the bodyshop – using a ChromaVision Pro Mini spectrophotometer and ChromaWeb formula software - ensures supreme accuracy and reproducibility at top speed.
Mix even small quantities quickly and accurately – ideal for sprayouts and spot repairs.
HIGHER EFFICIENCY
Accurately mixed colours reduce material waste and save money too.
Compact size fits easily into any bodyshop environment to maximise shopfloor space.
Unique integrated cleaning concept uses minimal detergent and automatically keeps dosing valves clean.
Better material consumption control thanks constant monitoring of paint usage.
FULLY AUTOMATED COLOUR MIXING: THE LOWDOWN
| | |
| --- | --- |
| OEM / Supplier | Fillon Technologies |
| Size (H x L x D cm) | 195 x 120 x 70 cm |
| ATEX / ULSCA / IECEX | YES |
| Connectivity | ChromaWeb |
| Internet connection | LAN |
| Pre-filled mixing tint bottles | Cromax Pro Basecoat |
| Bottle sizes | 500 ml / 1 liter bottles |
| Paint homogenisation | Automated Soft Mixing modus |
| Mixing quantity | 2 liter |
| Disposable cup detection | Yes |
| Cleaning | Automatic |
A NAME YOU CAN TRUST: FILLON TECHNOLOGIES
Daisy Wheel 3.0 is made in Europe and sold by Fillon Technologies – the leading name in precision paint mixing systems. Fillon has been helping bodyshops mix paint more efficiently for many years and this latest version of the Daisy Wheel takes that efficiency to a new level.
BUILD YOUR FUTURE WITH CROMAX
Cromax is your partner in building the bodyshop of the future. We are committed to supporting bodyshops to use technology in order to be more productive and more efficient. That's why we recommend using the Ultra Performance Energy System family of products with your Daisy Wheel system and to connect it with our Digital Colour Management system.
DON'T WASTE A MOMENT

Contact us to discover how this new Daisy Wheel 3.0 fully automatic dosing system can help your bodyshop make every moment more profitable.